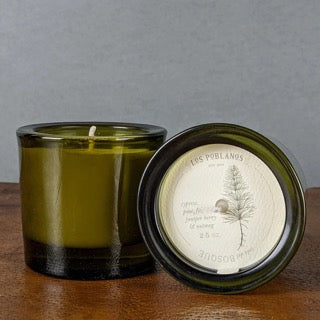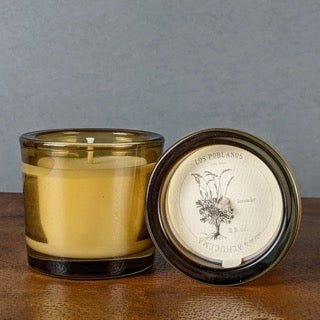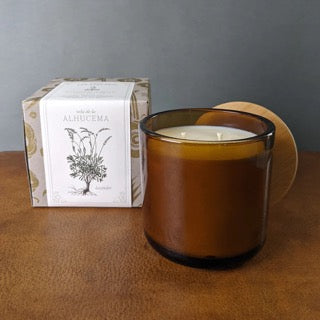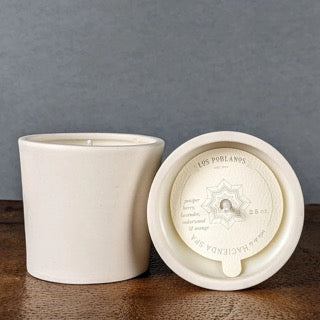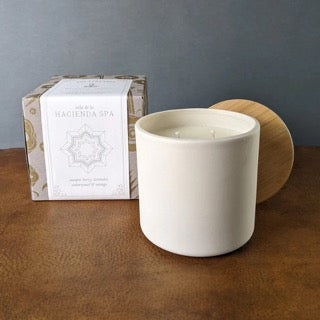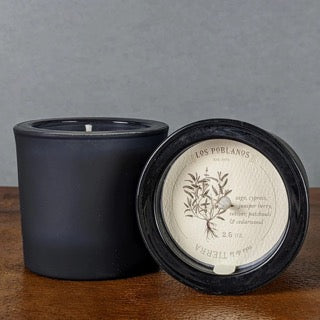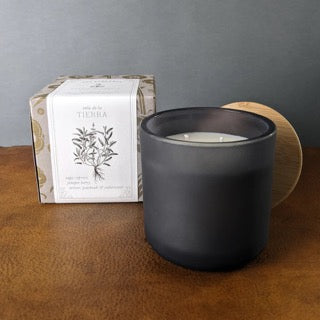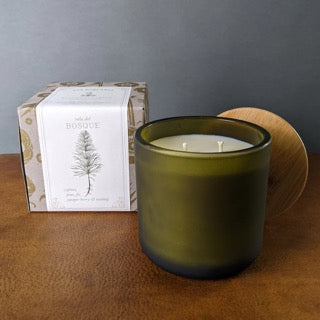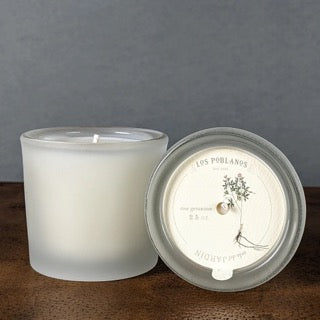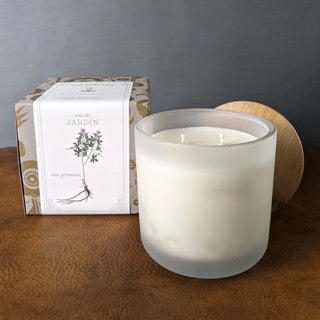 Los Poblanos Botanical Candle
Our candle collection is hand-poured using natural soy wax blended with essential oils. Light and allow the aromatherapeutic benefits to gently float through your home and outdoor space.

Expert tip: To extend the life of your candle, limit burn time to four hours and keep the wick trimmed to ⅛ of an inch.

Made with natural soy wax and pure essential oils
Proudly made in New Mexico
16 oz frosted white glass vessels

Hacienda Spa
The signature scent of our Hacienda Spa, this relaxing blend was carefully crafted to reflect the serene space of the historic Hacienda and evokes a sense of well-being. Notes of relaxing lavender, refreshing cedarwood and lively orange lend themselves to a transformative, calming experience.

Tierra
Our Tierra candle, meaning "land" in Spanish, blends sage, cedarwood and juniper essential oils for a unique, earthy scent reminiscent of a day spend outdoors in New Mexico. When you burn this candle, you're transported to our high desert landscape, with its distinct plant life, expansive views and ample sunshine.

Bosque
The stunning cottonwood forest bordering the Rio Grande is commonly referred to as the Bosque, meaning "woods" in Spanish. Beneath the cottonwood canopy is a lively and diverse ecosystem with a range of native grasses and shrubs. Inspired by this unique landscape, our Bosque candle has a woodsy profile that includes pine, fir and juniper.

Jardin
Bursting to life with incredible aromas and striking colors each spring, our formal, historic Rose Greely Garden, designed in 1932 by pioneering female landscape architect Rose Greely, is an iconic corner of our property. This candle embodies it with its sweet, crisp aroma.

Alhucema
Our organic lavender is harvested for its essential oil, which is extracted using an ancient Arabic steam distillation technique right on the farm. Allow alhucema, the Arabic translation for lavender, to lightly infuse any space with its fresh, floral fragrance.